Publications
The British Society of Master Glass Painters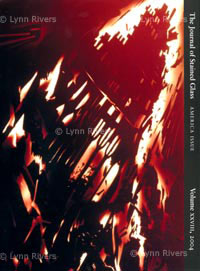 A major feature on Moment of Impact 9/11 was published by The British Society of Master Glass Painters in their 28th journal, an American special edition, in March 2005.
The back cover: a detail from Panel 9 of Moment of Impact 9/11: © Lynn Rivers 2005
ISBN 0954045742
Lynn Riversí work was choosen to represent contemporary practice along with the significant and greatly admired American glass artist Judith Schaechter, which was reviewed by Jennifer Hawkins Opie, Senior Curator and Head of Ceramics and Glass Collection, V&A Museum.
The guest editorial for the American Special edition is by Julie L. Sloan and there is an article by her and Dr Jim Yarnall about the work of John La Farge, both of whom were BSMGP conference speakers which coincided with the launch of the journal. The journal coincided with a two-day international conference on the art, craft and preservation of 19th century stained glass.
For contents listing visit: www.bsmgp.org.uk/bsmgpjournal/index.htm
Two main sources from which to purchase the journal:
Directly from journal@bsmgp.org.uk or the US distributor: Art in Architecture Press at http//:www.aiap.com
---
If you are interested to find out more, please contact the artist
Moment of Impact 9/11 is now seeking a permanent home contact us.