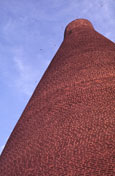 Moment of Impact 9/11 was made in Studios 6 & 7,
The Red House Glass Cone,
Wordsley,
Stourbridge.

The cone is one of four remaining in the U.K.

Dudley College sponsored Studio 6 and Dudley Metropolitian Borough Council sponsored Studio 7.
Originally the nine panels were commissioned directly by the Principal of Dudley College, Dr Gordon Hopkins. After his early retirement through ill-health, the commission was withdrawn. We had discussed a touring exhibition, displaying the work in the British Embassy in Washington and other locations before finding a permanent space within the college.
Having invested a year's work in project development, I decided that it would have been foolish to give up at that stage but with insufficient time to raise the necessary finances to support a project of this scale, it was difficult to see how to proceed. But by turning the situation around it presented me with an opportunity to own the work and this now gives you the opportunity to help find a permanent home for Moment of Impact 9/11, please contact.
Lynn is also available for commission work, please contact.